Gleams and shadows of Jewish life in France
October 20, 2022 @ 9:00 pm

-

10:30 pm

CEST
Join us for a dynamic interactive journey through the rich history of the Jews of France.
France has currently the largest Jewish population in Europe. The history of French Jews successively alternated between periods of tolerance and prosperity and the ordeal of insecurity and anti-Semitism, with both phenomena sometimes coexisting in parallel. Paris born Emmanuelle Stein will provide an overview of the Jewish presence in France from the Middle Ages to present day, while describing what pluralistic Judaism looks like here today through the eyes of a young Jewish woman and activist for human rights.
With your contribution you will also be donating to Exilophone, an NGO dedicated to the integration of refugees in France through arts and music. They organize music workshops, concerts and festivals that connect refugees with locals and help building bridges between different communities (Jewish, Muslims, Christians and others).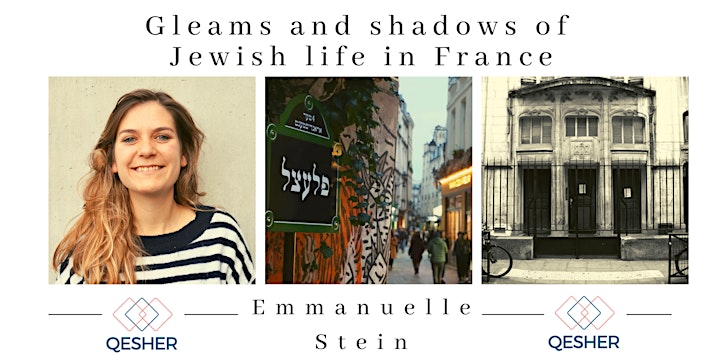 About Emmanuelle
Emmanuelle Stein was born in Paris, France, where she was always anchored to Jewish life through school and youth movements. As a child, she loved watching Robin Hood with her grandfather, an Auschwitz survivor. He passed on to her values such as human kindness, freedom, sincerity and perseverance.
She graduated from Sorbonne's Master of International Relations, Humanitarian Aid and International Development and completed a training in Cultural Entrepreneurship. At present, she is studying psychology. She is also passionate about music and writes songs.
She has more than 6 years of experience working with refugees for NGO's and international organizations in Mexico, Israel, Greece and France. She has also worked for the FUSJ (Fonds Social Juif Unifié – French Jewish community) as a project manager for young Jews. In April 2018, she set up the NGO "Exilophone" dedicated to the integration of refugees through arts and music.