Golem's Shadow: The Jews of Prague between Reality and Fiction
March 6, 2022 @ 7:30 pm

-

9:00 pm

CET
Join us for a dynamic interactive journey through the rich history of the Jews of Prague.
Jews arrived to the Czechlands before the 9th century, and eventually Prague became home to once the largest Jewish community in the world. Its former Jewish Quarter is a UNESCO World Heritage site, and the ancient Old New Synagogue, the oldest working shul. Did Hitler really build a "Museum of Extinct Race" in Prague – and how did the Golem oppose him? Why is the story of interwar Czechoslovakia a key to unlocking aspects of modern Jewish identity? We will also cover the renaissance of a community that almost ceased to exist due to the Holocaust and Communism
With your contribution you will also be donating to "Gan Bejachad", a one-of-a-kind Jewish kindergarten and nursery in Prague that operates for several dozen children who study bilingually in Czech and Hebrew and which offers kosher meals.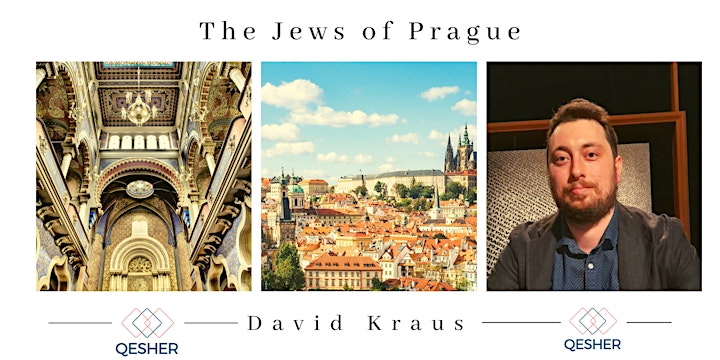 About David
David Kraus was born in Prague into a Czech Jewish family whose ancestors first appear in the records of the town already by the 14th Century. David's paternal grandfather František R. Kraus Z"L was a famous liberal journalist, writer, anti-nazi activist before WWII, friend with Kafka, Kisch and Masaryk – and a well-known holocaust survivor after the war.
David became one of the leading youth activists of the Czech Jewry in the late 1990's and the 2000's. He served as chair of the Czech Union of Jewish Students and as a lay leader of the Czech Jewish Community for over a decade, coordinating a number of projects in the Czech Republic, eg. Birthright, Stolpersteine, JudaFest, Yom Ha'Shoah or the Moishe House.
David pursued his degree in history and political science at the Charles University of Prague, focusing mainly on WWII and the 20th century and, subsequently, spent almost two years abroad, graduating from the Paideia Hebrew Studies in Stockholm in 2010. He also pursued his Holocaust Studies at Yad Vashem and completed the Torah Hebrew Study Program at Hebrew University of Jerusalem in 2011. David is currently continuing his PhD studies at the Theological Faculty of Prague.
David has been successfully running a Jewish-interest tour company for many years, but till this day he also retains his role as an active member of the Czech Jewish Community, both internally and in the wider general Czech society.