Hershel and the Hanukkah Goblins: A (Very) Rough Reading & Comedy Show
December 12, 2021
@
8:30 pm
–
10:00 pm
EST
A (very) rough reading of our favorite Hanukkah children's book, complete with comedians, the history of Hanukkah, commentary, & drinks!
Hershel and the Hanukkah Goblins by Eric Kimmel is Sam & Gus's favorite Hanukkah book from their childhood, and they totally thought that other people knew about it.
It turns out not everyone does, so Sam & Gus have gathered their favorite talented actors and comedians to bring the story of Hanukkah (and Hershel, and the Hanukkah Goblins) to the stage for ONE NIGHT ONLY!
What you can expect:
The full, and totally accurate, history of Hanukkah
Audience participation, but the fun kind
Hilarious comedians with impressive TV credits
Very talented, trained actors with MFAs in Theatre, reading directly out of a kids book
Biting social commentary
Tepid social commentary
Prop comedy
Drinks
Maybe latkes
We'll be fundraising all night for HIAS (founded as the Hebrew Immigrant Aid Society), the oldest resettlement assistance organization in the world. HIAS is a Jewish American nonprofit organization that provides humanitarian aid and assistance to refugees. HIAS is currently working to resettle refugees from Syrian and Afghan Wars. A generous anonymous donor will be matching up to $500 of all funds raised!
Doors open at 8:00pm, Show at 8:30pm. St. Marks Comedy Club is located in the back room of the V SPOT Express.
Proof of vaccination required for entry. 2 drink minimum.
Featuring Sam Clark, Gus Mayopoulos, Laurie Bennett, Paris Ellsworth, David Estrada, Mark Mauriello, Olivia Miller, Kim Onah, Usama Siddiquee & Zofia Weretka.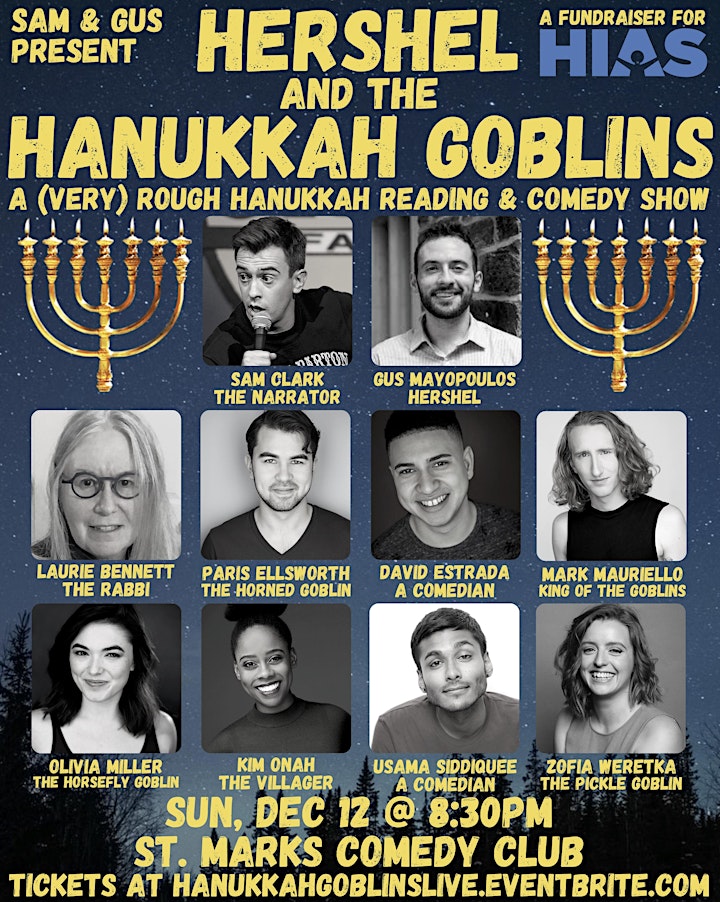 Related Events