Jewish Lisbon and Portugal: a community reconnecting with its past
July 25, 2021 @ 7:30 pm

-

9:00 pm

CEST
Join us for a dynamic interactive journey through the rich history of the Jews of Portugal.
Join me on a virtual tour through the Jewish heritage of Lisbon, Portugal; a presence that dates back to the Roman era. This visit will allow you to understand the living Jewish community in Lisbon and learn about their history, their traditions and their everyday life. We will see the Sharee Tikva synagogue and refer to the massacre of Passover of 1506, for which a memorial was built by Jews and Catholics to express the reconciliation between religions. We will also walk virtually through Lisbon's historic downtown, where two of the Jewish quarters used to be located. The Alfama, the oldest neighborhood in Lisbon, still preserves the 8th century layout, and here, Jews, Christians and Muslims used to live and work side by side.
For centuries after the expulsion, many "conversos" kept practicing their faith in strict secrecy, and the most famous example are the Belmonte Jews, who until recently lived as a strictly isolated community. We will make a detour in our journey to learn about them and about the rapidly growing community of Porto, representing about 500 Jews from more than 30 countries. During our time together I will reveal these fantastic details and more. I hope to see you there!
With your contribution you will also be donating to the Associação Israelita de Beneficência Somej Nophlim – Amparo dos Pobres. This association was created in 1876 and has helped several Jews and non-Jews to stay out of poverty, especially during WWII.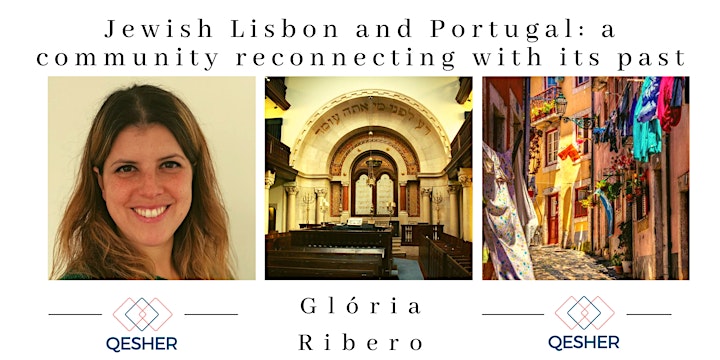 About Gloria
My name is Glória Ribero and I completed my university degree on National Tourist Guiding, becoming a Portugal's official guide in five languages in 2004. There's nothing that makes me happier than to show my people and their history, especially the Portuguese Jewish history, because I believe to have Jewish background myself, and I am not the only one here.
Since last year I have been delivering virtual tours of Jewish Lisbon and Portugal to bring Jews closer to my history and stories without having to leaving their homes. Hopefully we can meet in person soon!