The Jews of Cuba: Journeys, Stories, Poems
May 1, 2022 @ 7:30 pm

-

9:00 pm

CEST
Join us for a dynamic interactive journey through the past, present and future of the Jews of Cuba.
My talk will offer a broad perspective on the Jews of Cuba drawing on historical scholarship, ethnography, and literary and artistic visions. We will start with a close look at the formation of the first Jewish communities in the early twentieth century and examine the rise and fall of these communities after the Cuban Revolution. The revitalization of Jewish life since the 1990s will lead us to the present day and to how Jews continue to assert their presence on the island in challenging times. We will also spend time exploring the nostalgia felt by Jewish Cubans who left the island but could never forget their beloved Cuba.
With your contribution you will also be donating to the Beth Shalom Synagogue, Havana, Cuba. This is the Jewish Community Center of the island through which the aid can be distributed to all the members of the Jewish community of Cuba.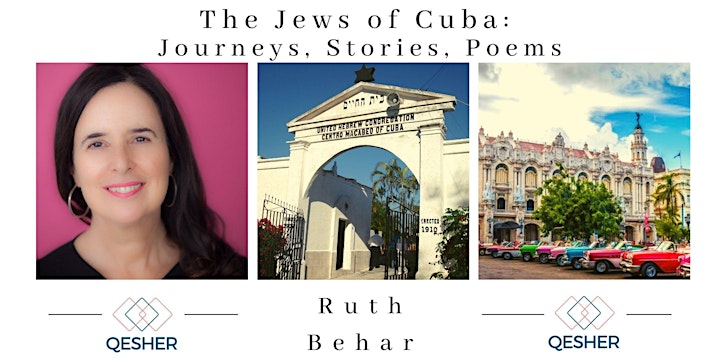 About Ruth
Ruth Behar was born in Havana, Cuba and grew up in New York. She is a cultural anthropologist, poet, and writer of fiction for young people. She has lived in Spain and Mexico and returns often to Cuba to build bridges around culture and art. She writes about her journeys in her ethnographies, which include An Island Called Home: Returning to Jewish Cuba and Traveling Heavy: A Memoir in Between Journeys.
Behar is the recipient of a MacArthur "Genius" Grant and a Guggenheim Fellowship, and was named a "Great Immigrant" by the Carnegie Corporation. She is a member of the American Academy of Arts & Sciences and is the James W. Fernandez Distinguished University Professor of Anthropology at the University of Michigan, Ann Arbor.