Two people, one womb: The Jews of Italy
November 18, 2021
@
7:30 pm
–
9:00 pm
CET
Jews have been living in Italy since the last centuries before Christ, even before the destruction of the second Temple. They've adopted local music, food, language, style and customs. There have been tough times, but overall it is a story of co-existence and mutual respect. We'll explore the history of Jews during the Roman Empire, the Middle Ages, the ghettos of Venice, Mantua and Rome through emancipation, World Wars and the present day. We'll discover language, poetry, music, theatre, liturgy and – of course – cuisine.
With your contribution you will also be donating to Benhashmashot, the first professional Jewish theater in Italy, based in Milan. The repertoire is based on Jewish texts, characters and holidays. Its public is a Jewish and non-Jewish audience, the artists involved come from all sorts of backgrounds.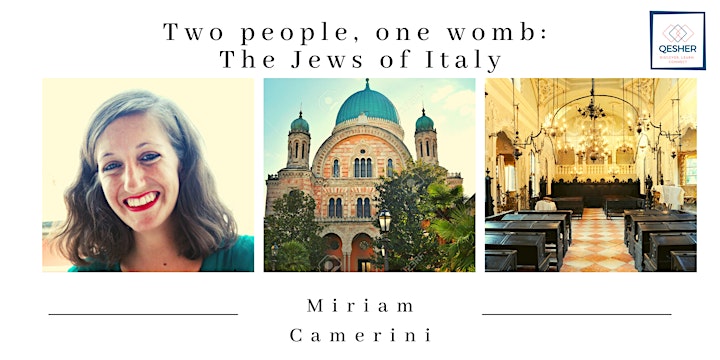 About Miriam
Miriam Camerini was born in Jerusalem and grew up in Milan, Italy. A graduate from the Paolo Grassi Acting School of Milan and the Pardes Institute of Jewish Studies in Jerusalem, she's a rabbinical student at Beit Midrash Har'El, one of the first orthodox yeshivas to ordain women rabbis. Theatre director, writer, singer and actress, Miriam worked as assistant director with director Cesare Lievi at the Opera House in Zürich and with director Lorenzo Arruga at Teatro La Fenice in Venice. She's the founder and artistic director of Benhashmashot, the first professional Jewish Theatre in Italy, based in Milan. A journalist and published author, Miriam, after years of interfaith work in dialogue and research, published a book about food and religion, Ricette e Precetti (Giuntina, Firenze 2019).
Related Events