Get ready to travel again: Sephardic Jewish Heritage Tour to Spain
November 18, 2021
@
10:30 pm
–
11:30 pm
CET
Travel to Spain for 8 days and 7 nights in March 2022 and discover the Golden Age of Spanish Jewry with Qesher speakers and guides. Join us for a dynamic virtual presentation of the "Sephardic Jewish Heritage Tour to Spain", offered in partnership with Nora Kaplan Learn-in-trips and Jewish Spain Tour.
We will follow the daily itinerary with Moisés, who will take us through the highlights of Seville, Granada, Cordoba, Toledo, Lucena and Madrid. We will discuss the planned visits, the hotels and restaurants. Moisés will be available to answer any logistical questions, and if the tour looks exciting to you, you can book a spot.
CLICK HERE FOR ALL THE INFORMATION ABOUT THE TRIP (PROGRAM, PRICES, REGISTRATION AND CONDITIONS)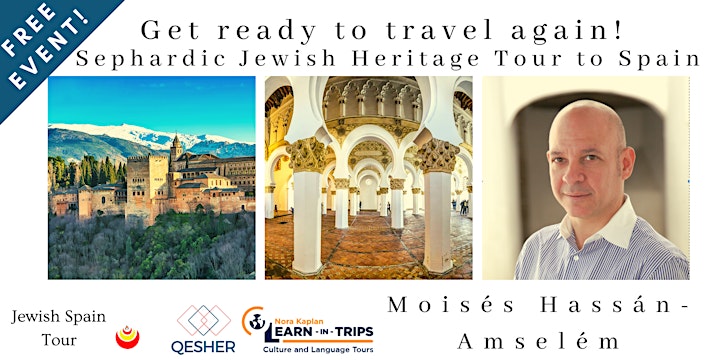 About Moisés
Moisés Hassán-Amselém was born in Seville of Moroccan heritage. He is an honorary lecturer on Holocaust-Shoa Studies and Antisemitism at the "Pablo de Olavide" University in Seville. He obtained a law degree in 1995. However, he decided to make a complete career change and focus on the Jewish history of Spain. Therefore he set out to found Jewish Spain Tour, a fully licensed Tour Operator specializing in Jewish travel inside the Iberian Peninsula as well as in Morocco.
Related Events