Jewish Africa: A Photographic Journey
August 14, 2022 @ 7:30 pm

-

9:00 pm

CEST
Join us for a virtual photographic journey through Africa's rich and varied Jewish life
Since antiquity the Jewish people have had a presence in Africa, making some of its communities among the oldest in the world. In August 2012 and over the next 4 years, Jono David set out on a photographic journey across the continent with the aim to document the life, culture, and history of the Jewish people from one end of Africa to the other.
This interactive presentation delineates some of that work while taking viewers on a virtual journey through a photographic project that took me to 30 countries. The presentation will spotlight the emerging Black Jewish groups in Uganda, Cameroon, and Ghana as well as the historical Orthodox community of Djerba (Tunisia), Chabad-Lubavitch of Central Africa in Kinshasa, (Democratic Republic of Congo) and the Jewish community of South Africa.
With your contribution you will also be donating to the Johannesburg Holocaust & Genocide Centre (JHGC), South Africa. The JHGC explores the history of genocide in the 20th century with a focus on the Holocaust and the 1994 genocide in Rwanda.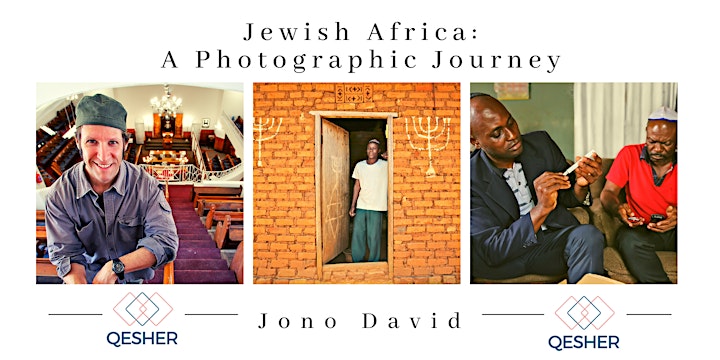 About Jono
Jono David is an American-British independent photographer who, since the 1990s, has traveled the globe to amass what is perhaps the most extensive archive of contemporary images of Jewish heritage and heritage sites in the world – a growing compendium of more than 120,000 photographs from 116 countries and territories.
Jono is based in Tokyo where he lectures in English at several universities. His online Jewish photo archive is http://www.JewishPhotoLibrary.com. For his other photographic pursuits, visit his online portfolio: http://www.jonoDavid.com. His book, The Jews of Africa: Lost Tribes, Found Communities, Emerging Faiths, is available now and can be previewed here: http://www.jonoDavid.com/thejewsofafricabookpreview.